Avro Lancaster Crew Photos
There have been some interesting wartime crew photo's sent in lately, and it is here that we wish to pay tribute to those crews that fought for our freedom.
Please respect the families that have loaned us the photos for this page and request permission to use any of the photos posted here.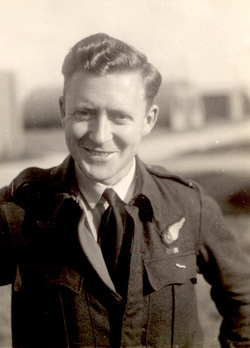 Flying Officer Alan Buxton - Navigator 617 Squadron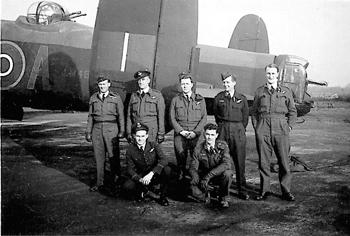 617 Sqn - although known as the Dam busters was really a special operations squadron and were involved in such tasks as bombing submarine pens in Holland and destroying railway lines by dropping 'earthquake' bombs beside the tracks where the track entered or exited mountain tunnels. They also attempted to drop bombs down the ventilation shafts to Hitler's bunker in Berlin in the closing stages of the war Photo c/o John Buxton
Alan Buxtons crew of Lancaster KC-A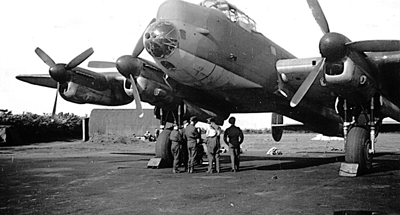 The crew L to R rear row:
Flight Lieutenant Howard Gavin DFC - Pilot
Flying Officer Les Burrows - Rear Gunner
Flying Officer Alan Buxton - Navigator
Flying Officer Neil Sainsbury - Wireless Op
Pilot Officer Warren White - Bomb Aimer
Front:

Flying Officer Tom Reddan - Mid Upper Gunner
Sgt Joe Brown - Engineer (Only English crew member)Photo c/o John Buxton

Preparing Lancaster LZ-V "Special" for another trip.

Photo c/o John Buxton
Cowan's Crew 424 Tiger Squadron R.C.A.F

The Whole Crew.!
Top: Jack Martin,Flt Engineer
Middle L/R Alex Cambell,Navigator
Stan Stringer,Rear Gunner
Walter McAloney,Bombaimer
Front Left Keith Rupert,Wireless/op
Middle Harry "Hank" Cowan Pilot
Right Michael Guthman, mid-upper Gunner

Lancaster QBP Piccadilly Princess

Stanley the Rear Gunner,looks out of the pilots window as Keith Rupert W/op admires the newly painted Varga girl "Piccadilly Princess" of 424 "tiger" Squad Skipton on Swale Yorkshire Jan 1945.c/o Keith Rupert
W/C Marshall and Squadron officers pose in front of Lancaster NB 347 (QB P), the "Picadilly Princess" at Skipton-on Swale, 1945
Last Updated February 11 2003